Art Education Victoria (ArtEdVic) is governed by an elected Board of volunteers.
Find out more about our 2023 Board members below.
We also have a number of portfolio's that focus on different areas within ArtEdVic:
Early Years/Primary, Secondary (Yr 7-10), VCE Programming/Resources, Tertiary, Inclusive Education, Member Engagement and Advocacy.
The Member Engagement area of ArtEdVic has a number of sub-committees including:
ARTicle (our journal), Annual Conference, Special Events/Symposiums, Professional Development and our Advisory Subcommittee.
Our Life Members are individuals who have made remarkable contributions to visual art education in Victoria and to the association within their time at ArtEdVic.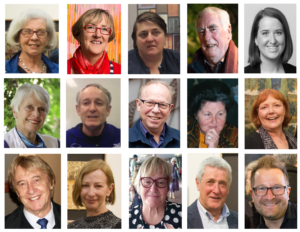 Life members include: (above not in order) Lee Emery, Marion Strong, Nicole Wassell, Robert Matthers, Freya McCormick, Nancy Whittaker, Deryck Greenwood, Adrian Montana, Janette Grenfell, Jill Edwards, Max Darby, Irene Court, Adele Flood,  Jeffrey Sheldon,  and Steve Marks.  Note: Robert Hamilton and Tania Tickyj not pictured.
Filter the categories you want to see.
become a member
Art Education Victoria exists for and because of our passionate community. Our members include art and generalist educators, schools and tertiary institutions, arts and cultural organisations, and businesses across Victoria and beyond. Become a member today to receive a range of benefits, join a community, and support collective advocacy for visual arts education.