Secretary | Board - Hau Ong (Andy) Ding
Achievement Leader for Art, Performing Arts and Technology | Gleneagles Secondary College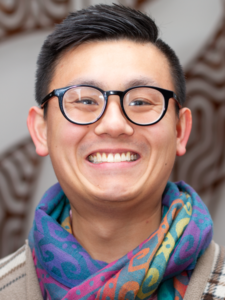 Board Member from August 2019 to August 2022
Acting Chair from Sept 2022 – Jan 2023
Hau Ong is the Achievement Leader for Art, Performing Arts and Technology at Gleneagles Secondary College and previous to this he was the Art and Technology Teacher at a specialist school for young people with a disability. He enjoys developing partnerships with communities and organisations to advocate for the lifelong participation of children and young people with a disability in the arts. His passion stemmed from his previous work in student wellbeing and community development in schools and community-based organisations. He believes that all students can enjoy and achieve their personal best in the arts through accessing a learning community, where they can develop resilience, independence and interests in nurturing their skills and artistic voice.

Having been actively involved in Art Education Victoria and in a leadership capacity in one of its local networks (BaMP), Hau Ong is proud to be a part of a professional association that empowers educators to provide quality art education to all students within the Victorian communities. His aim is to support and elevate ArtEdVic's commitment in working towards the goal of inclusion and diversity in art education, creating strength-based opportunities for all learners to access, participate, engage and find success in their art learning experiences. 
Hau Ong undertook studies in visual arts, technology, performing arts, community development and counselling prior to completing his Masters in Teaching from Monash University. This experience led him to develop and exhibit a portfolio of creative works, which explored the human condition, in galleries and sites across Melbourne and internationally. Hau Ong continues to make art for his ongoing professional development.