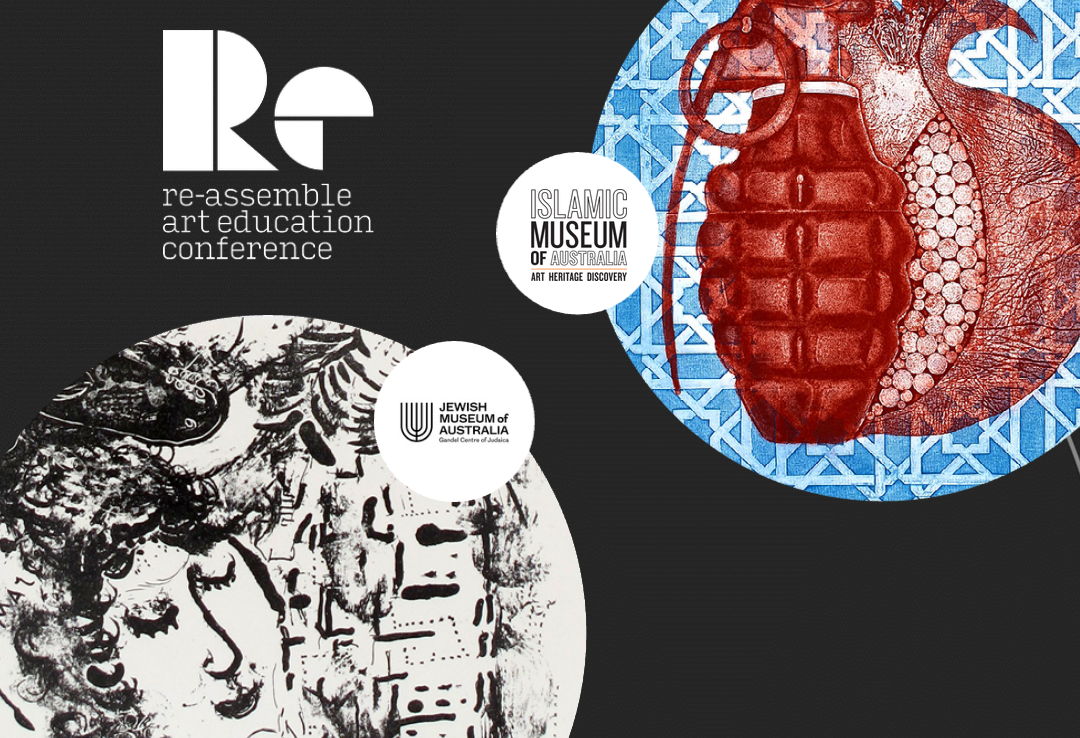 Product Description
Recordings are available now!  
Click Here to purchase
Reassemble Conference – Multicultural Museums Panel Presentation
Our Multicultural Museums presentation panel includes: Kym Wilton the National Education Manager from the Islamic Museum of Australia and Naomi Ryan the Co Head of Learning and Engagement, from the Jewish Museum of Australia. Hosted by Lena Cirillo, Executive Officer of Art Education Victoria. Attendees will come away with a greater appreciation and understanding of the crucial role that creativity and art play in fostering cross cultural connections and promoting empathy and understand in a diverse society.
Kym Wilton's presentation will explore how the Islamic Museum of Australia (IMA), and more specifically the Australian Muslim Art Awards (AMAs) and the Future Australian Muslim Art Awards (FAMA), provide unique opportunities to engage in cross-cultural learning through the exploration of Islamic art forms, both traditional and contemporary. By unpacking the art and culture of Islamic societies, students and teachers alike are able to gain a more nuanced understanding of Muslim identity and experience in Australia. 
Naomi Ryan will speak on the early-modernist Marc Chagall (1887-1985), a Russian-French pioneer currently on show at the Jewish Museum of Australia. CHAGALL is an exhibition celebrating the remarkable story of an international master. The multicultural experience of Chagall is reflected in his expansive oeuvre that transcends cultural barriers and artistic movements. The Jewish Museum has been transformed into a Chagall-inspired dreamscape that includes an exclusive capsule of original works and poems, alongside bespoke immersive experiences that students will find engaging. To compliment and respond to CHAGALL, celebrate Australian Artist Commission – and vibrant exhibition concurrently on show, Carnelian by Yvette Coppersmith. Coppersmith won the 2018 Archibald prize for her painting Self Portrait, after George Lambert. Educators and students will be able to engage with this local artist images and content.
Where
Post Event Recording: Purchase by clicking the "Purchase – add to basket" button above
*We will email you a URL link to a recording of the presentations post purchase. Please note the recording includes images of the student folios from their PowerPoint presentations.
Date of Recording
This event took place on Fri 7 July 2023.
If you attended the conference, you can access the recordings free of charge. 
To purchase ArtEdVic's Keynote Speaker Recording CLICK HERE.
POST EVENT RECORDING
Cost
$55 Members
$95 Non-members
If you are not an ArtEdVic member, join our community to get the discount member rate for resource purchases. CLICK HERE to get your Annual Membership with all the benefits including professional development, networking opportunities and access to member only resources. If you are a member please login to receive your discount, if you are experiencing difficulties logging in please email us at hello@aev.vic.edu.au
Payment terms – All invoices need to be paid within 14 days from the date of order.