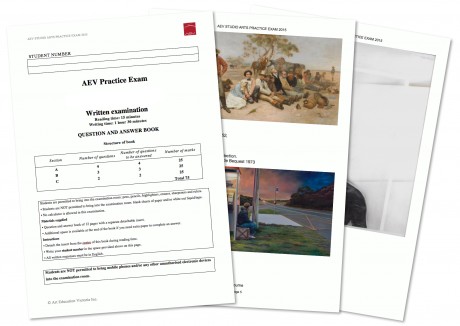 2021 TRIAL EXAMS VCE Studio Arts & VCE Art
View
Product Description
VCE Studio Arts & VCE Art Trial Exams!
Get exam ready with ArtEdVic's VCE Trial Exams! We have developed unique Trial Exams for both VCE Art and VCE Studio Arts to use as a resource in preparation for exam time.
The 2021 AEV Trial Exam covers the major topics to be assessed in the VCE Studio Arts and VCE Art end of year examinations.
The exam challenges student skills and knowledge, and has been written by expert teachers in each study. The 2021 trial exam comes complete with a question book, full colour insert of art images and an answer guide with sample responses compiled into three separate high quality PDFs.

What's Included?
– Trial Exam paper
– Artwork insert with high-quality images
– Answer guide with sample responses
How will I receive my Trial Exam?
Once you have processed your order via our website an email will be automatically sent to you with a link to download the three documents. If you have any issues receiving this email, please email us at hello@aev.vic.edu.au
Cost:
$  90 (Inc. gst) ArtEdVic Members
$ 125 (Inc. gst) Non Members
If you are not an ArtEdVic member, join our community to get the discount member rate for resource purchases. CLICK HERE to get your Annual Membership with all the benefits including professional development, networking opportunities and access to member only resources. If you are a member please login to receive your discount, if you are experiencing difficulties logging in please email us at hello@aev.vic.edu.au