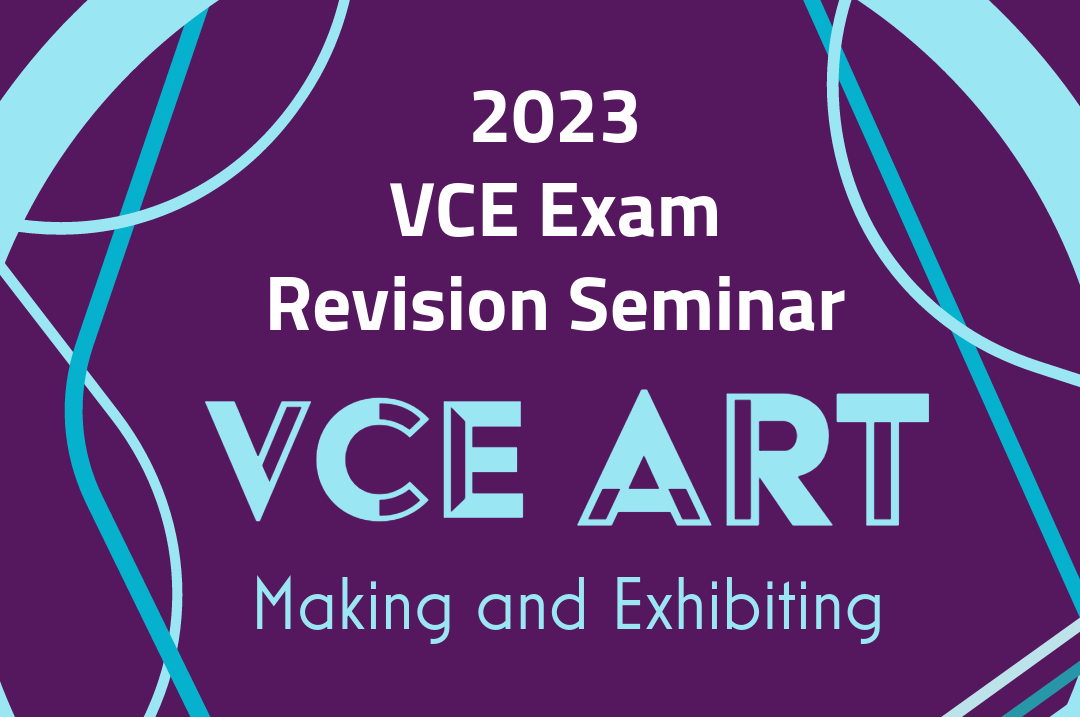 2023 VCE Art Making and Exhibiting Exam Revision Seminar Recording
Purchase
Product Description
Post Event Recording of Seminar is now Available for Purchase:
This Seminar will provide inspiration to you and your students with tips, tricks and strategies for preparing for the 2023 VCE Art Making and Exhibiting exam. As this is the first year of the new study design, this seminar will focus on the types of questions that have been developed by the VCAA trial exam sample.
The VCE Art Making and Exhibiting Seminar was be led by an expert educator Helen Attrill, an accomplished teacher, examiner and art gallery educator. With extensive teaching and assessment experience, Helen offers a unique perspective. Helen has taught Studio Arts since its inception in a variety of artforms at Rochester and Bendigo Senior Secondary Colleges and has been involved in contributing to the Victorian art education curriculum evolution through VCAA forums and leading regional meetings. As an Education Officer at Bendigo Art Gallery, she has delivered VCE Art: Making and Exhibiting programs and designed curriculum-aligned resources. Helen's influence extends to Creative Victoria's Advisory Panel, demonstrating her commitment to shaping the arts. As a consistent VCAA VCE Exam assessor, Helen's presentation was a valuable opportunity to take up to further support art educators and students.
This event took place on Thursday 5 October 2023.
Purchase by clicking the add to basket button
Once your order has been submitted you will automatically receive an email with the URL link to the presentation that will include a password to access and view the Seminar.
ArtEdVic encourages the sharing of this seminar with students for educational purposes, in a classroom conference capacity or by sharing the login details with students directly for them to view in their own time.
Cost:
$150 Members
$190 Non Members
If you would like to access both VCE Creative Practice Exam Revision Seminar & VCE Art Making & Exhibiting Exam Revision Seminar recordings you will be required to purchase each seminar separately.
If you are not an ArtEdVic member, join our community to get the discount member rate for resource purchases. CLICK HERE to get your Annual Membership with all the benefits including professional development, networking opportunities and access to member only resources. If you are a member please login to receive your discount, if you are experiencing difficulties logging in please email us at hello@aev.vic.edu.au
Payment terms – All invoices must be paid within 14 days from the date of order.