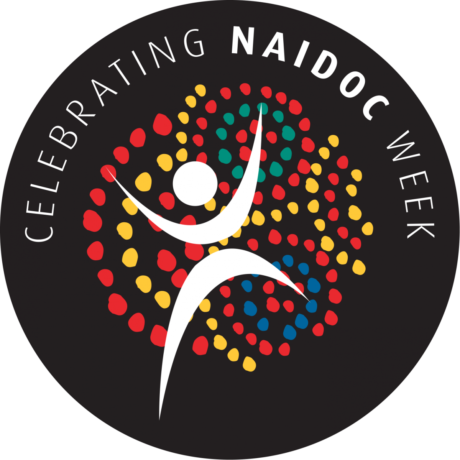 Art Education Victoria Celebrates NAIDOC Week | 3 – 10 July
Download
Product Description
National NAIDOC Week Educational Resources
National NAIDOC Week celebrations are held across Australia in the first week of July each year (Sunday to Sunday), to celebrate and recognise the history, culture and achievements of Aboriginal and Torres Strait Islander peoples. NAIDOC Week is an opportunity for all Australians to learn about First Nations cultures and histories and participate in celebrations of the oldest, continuous living cultures on earth. The following collection of websites and resources can be valuable to teachers, students and schools to better understand and celebrate Australia's First Peoples and rich Indigenous history.
CLICK HERE to visit the NAIDOC Week website.
---
Monash University Museum of Art (MUMA) – Deadly Learning

Aboriginal and Torres Strait Islander art in Australia is part of the continuing story of the oldest living culture in the world. This resource brings together the diverse viewpoints of a number of contemporary Aboriginal and Torres Strait Islander artists represented in the Monash University Collection as they share insights about their sources of inspiration and practice.

CLICK HERE for more details.

Australian Centre for Contemporary Art – Contemporary Aboriginal and Torres Strait Islander Art Resources

ACCA Education supports innovative, free and fun arts learning opportunities for students, educators, and the wider education community through our in-gallery programs, outreach, online resources, and the ACCA virtual classroom. This ACCA Art File focuses on contemporary Aboriginal and Torres Strait Islander art and practices. The resource is designed as an adaptable toolkit for teachers to use selectively in devising their own units of classroom learning with extractable sections for direct distribution to students.

CLICK HERE for more details.

Narragunnawali Reconciliation in Education

Use the Narragunnawali suite of early learning, primary and secondary curriculum resources to promote reconciliation and to strengthen children and students' knowledge and understanding of Aboriginal and Torres Strait Islander histories, cultures and contributions. The resources can be used as they are or adapted to suit the local community context. Each resource encompasses elements of the Early Years Learning Framework and the Australian Curriculum, and aligns with Reconciliation Action Plan (RAP) Actions.

CLICK HERE for more details.

Aboriginal Art in Early Childhood (Webinar) – Cost: $50

This session is for educators who are wanting to respectfully embed Aboriginal art and culture into their art curriculum. Jessica Staines Director of the Koori Curriculum dispels the myths about what is and isn't ok and provides educators with practical tips and ideas to meaningfully teach and include Aboriginal art in the curriculum.

CLICK HERE for more details.



Ballarat International Foto Biennale | Undercurrent Education Program with Peta Clancy

The Undercurrent Education Program is a six-workshop research-based photography project inspired by the practice of local artist Peta Clancy. Students will conduct an in-depth investigation of the Indigenous and colonial histories of their local area sourcing visual and historical research material that will inform a place-responsive and culturally-aware photographic practice of their own.

CLICK HERE for more details.
Strengthen our community and share your education resource or any you are utilising in your classroom or organisation!
Just email us at hello@aev.vic.edu.au to share!