Board Chair from March 2020 - Paul Morrison
Head of Visual Arts and Media | St Bede's College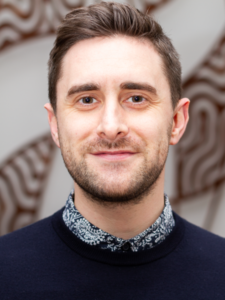 Paul is currently Head of Visual Arts and Media at St Bede's College, Mentone, and has significant experience teaching art in both the UK and Australia. Originally from Ireland, he earned a Bachelor of Art in Painting and a Master of Art in Studio Practice before migrating to Melbourne in 2014. 
Paul is a practicing artist focusing on painting and has taken part in exhibitions in the UK, Australia and abroad. He has also been a committee member of a number of artist collectives, gaining experience in exhibition curation, artist management and delivering artist workshops including at the NGV. 
With a strong interest in art education, Paul will bring his knowledge and experience of current curricula, teaching methods and artistic practice to create opportunities for educators to engage with local artists and the wider visual arts community.