Board Member - Maria Nardo
Specialist Leader and Visual Arts Educator | Saltwater P-9 College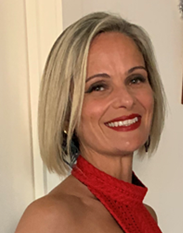 Maria is one of the Visual Art Educators as well as being the Specialist Leader at Saltwater P-9 College, Point Cook. She has been teaching for 4 years in Visual Arts and is passionate about creating cross curricular links with the teachers at her school. She is qualified to teach VCE Studio Art as well as English through to Year 12.
Maria has a Bachelor of Arts from ACU, an Honours Degree in Literature from Deakin University, a Master of Commerce from Deakin University and finally completed her Masters of Primary and Secondary Teaching Fine Arts at Deakin University prior to commencing her role with Saltwater P-9 College.
Maria works in an International Baccalaureate (IB) school and integrates the Primary Years Program (PYP) into her units of inquiry. She is a member of RedWest an Artist
Co-op in the Western suburbs of Melbourne, through which she has had the opportunity
to partake in several group exhibitions. Recently Maria's work featured in a publication
that was sold at the National Gallery of Victoria during the International Art Book Fair
and Design Week.
Maria sees the value in teaching students' conceptual skills that transfer across multiple areas
of the curriculum and life in general. She is an advocate for the expansion of exposure of the
benefits of the Arts through social media, NEWS and other media outlets. She is interested in
advocacy work she is passionate about and is a representative to endorse more awareness of the
benefit of employing top quality teachers into the industry to ensure students are provided with
the best opportunities to explore the Arts through the lens of an Artist. She will also work towards
helping Art Education Victoria advocate for students to continue their Art journey through their
entire schooling journey.