Council Member - Margot Anwar
Visual Arts Educator | Haileybury College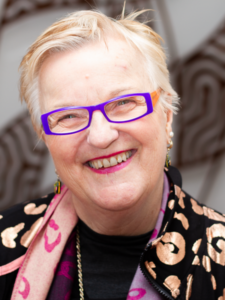 Margot Anwar is a Visual Arts Educator with experience in a broad range of educational settings in Australia and Indonesia including government, independent and catholic schools. In these contexts, she has implemented and taught curriculum from P-12 including, VCE and the International Baccalaureate Diploma. In her roles as Head of Faculty and team leader, Margot has consistently been an agent of progressive change: promoting the arts as a cross-disciplinary benefit for all students; creating modern purpose-designed art facilities with an emphasis on broad-based creativity; enhancing student engagement in a range of cultural enterprises; crafting opportunities for the presentation of high profile student art exhibitions and the development of inter-cultural links in and beyond school communities. 
Central to her work is Margot's commitment to the transformative power of the Visual Arts in contributing to the development of confident, creative and outward thinking global citizens. She was Senior Education Officer for Australian Art at The National Gallery of Victoria, and in her recent role as faculty leader at St Leonard's College, she was instrumental in developing a new Visual Arts Centre and, in collaboration with Zart, establishing 'Nurturing Creativity', an annual conference for Visual Arts teachers. The facilitation and enablement of student and teacher agency has been the driving passion of Margot's career as both a teacher and educational leader.
Margot has a Higher Diploma Teaching, Secondary Art & Craft from Melbourne State College and awards such as; AST1&2 (Advanced Skills Teacher) Excellence in Classroom Practice; Methodist Ladies' College Overseas Study Grant and The Geelong Grammar School Foundation Staff Study Award. She has presented at conferences in Indonesia in the context The Arts and inter-cultural dialogue and has been a Facilitator for the Third Paradise Forums at The Arts Learning Festival in Melbourne. To complement her teaching, Margot has also assumed the role of being; Custodian of School Art Collections, Curator of local and touring international student exhibitions, initiator of artist-in-residence programs and a member of Indigenous Consultative Committees, inclusive of the National Gallery of Victoria. Margot is currently employed at Haileybury College as a Visual Arts teacher.