Marketing and Membership Coordinator | Staff - Lauren Holmwood
Marketing and Membership Coordinator | Art Education Victoria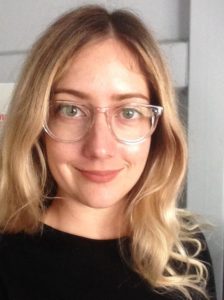 Lauren began her role as Marketing and Membership Coordinator with Art Education Victoria in June 2020. Lauren is a practising artist whose work predominantly focuses on
projection, public art and installation. She works within audience engagement,
currently holding positions at Counihan Gallery in Brunswick and National Gallery
of Victoria.
Lauren began her career in teaching, studying Early Childhood Education at Curtin
University in Perth, Western Australia. Her background in education has instilled in
her a love of teaching and community arts projects. This is reflected in her practise
working in public art creating works that are relational and interact with the community.
In 2016 Lauren graduated from RMIT University completing a Bachelor of Fine Art in
Expanded Studio Practice with Honours. Lauren's work has been seen in White Night Festival,
Mailbox Art Space, Perth Fringe Festival, RMIT Lightscapes project and as a part of group
works in Gertrude Projection Festival 2012 and 2013.
Lauren is passionate about engaging and creating community to foster support for
educators and growth within the arts. She looks forward to utilising her skills within
the arts, education and membership engagement to serve the dynamic and interconnected
community that is Art Education Victoria.