Deputy Chair from May 2020 - Laura Russell
Visual Art Educator | Newport Lakes Primary School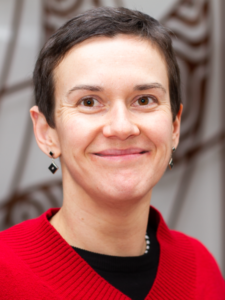 Laura has been teaching at Newport Lakes Primary School as a full time art teacher for the past ten years. Laura is also the Indigenous Studies Coordinator and Capabilities Curriculum Leader at her school. As the only art teacher at her school, Laura believes it is important to build support for art educators, particularly, primary art teachers, who often work in an isolated work structure as the only art teacher. Laura started a local network group of primary art teachers four years ago and now coordinates the group with a colleague. 
Laura has involved her school in various local community art projects and events over the years. Laura has also been involved in a number of projects with the Victorian Curriculum and Assessment Authority (VCAA) for the Visual Arts curriculum such as the Formative Assessment Project. Before becoming a teacher, she worked for ten years as an artist in Australia and the United Kingdom, and spent many years working at the Australian Tapestry Workshop. 
Laura completed a Bachelor of Arts (Fine Art) in 1997 and a Master of Teaching in 2008. She is currently enrolled in the Master of Education (Arts Specialisation) at Melbourne University. Laura has been a member of the ArtEdVic council since 2017 and presented at the primary art educators' conference in Sydney, 'Art Everyday' in 2018. She has an interest in art curriculum and pedagogy, particularly, the Studio Habits of Mind (SHoM) and research from Project Zero. Laura continues to work on her own art practice, creating abstract drawings and prints inspired by particle physics.