Committee member - Adam Staples
Visual Arts Education and Educational Studies lecturer | Australian Catholic University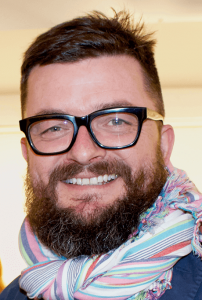 I am a Visual Arts Education and Educational Studies lecturer at ACU on the Melbourne campus, teaching into the Master of Education, Master of Teaching (Primary) and Bachelor of Education (Primary) programs. In my teaching practice, my current area of interest is the development of effective online Visual Arts learning, particularly in initial teacher education subjects.

My PhD research examined the nature of the relationship between learning in the Visual Arts and contemporary society formation. The theoretical construct that emerged from my research was that of phronesis, or practical wisdom, in which Visual Arts learning can be understood as being comprised of intent, practice and impact. My current research is concerned with documenting a Rancièrian approach to Visual Arts learning and an enabling of the aesthetic re-imagining of contemporary society.
Beyond academia, I am a practicing artist and a Sir David Attenborough acolyte.
I would like to contribute by adding support to the tertiary perspective in Arts education in Victoria. Graduating teachers represent a significant cohort of the teaching profession, which I think is a largely 'untapped' resource, and I believe that AEV has the capacity to play a role in changing this status quo.  I see AEV being able to connect to many if not all of the initial teacher education programs in Victoria, thereby providing a bridge between what happens at university and what happens in the schools.
I believe I am also able to contribute to the development of research initiatives within AEV, including the journal.