Dr Max Darby Memorial Lecture 2023
Date : 20 OCT 2023
Time : 6:30pm - 8:00pm
Location : University of Melbourne, Kwong Lee Dow Bldg
234 Queensberry Street, Carlton


Expanding Horizons:
Access, Inclusion, and Activism in Arts Education

Art Education Victoria is proud to present the Dr Max Darby Memorial Lecture hosted in partnership with Melbourne University Graduate School of Education (MGSE). We will celebrate our art education founders and honour Dr Max Darby and his legacy.
Join us for an inspiring and thought-provoking lecture as we delve into the dynamic world of arts education with our extraordinary speaker, Dr Sarah Healy who will illuminate the intersections of art, education and activism, offering fresh insights and innovative approaches for visual art educators.
Dr Sarah Healy: Charting New Territories in Arts Education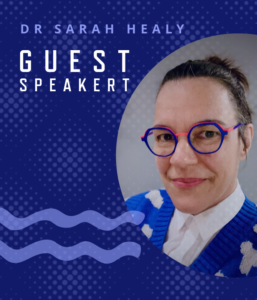 Dr Sarah Healy, co-lead of SWISP Lab and a Melbourne Postdoctoral Research Fellow in the Faculty of Education, is a trailblazer in the fields of speculative a/r/tography, affect theory, and digital scholarship. Her work resonates with the concept of 'justice' in its myriad forms, making her a powerful advocate for inclusivity and equity in arts education. Dr Healy's collaborations with diverse stakeholders worldwide, from academics to artists and educators, exemplify her commitment to breaking down barriers and promoting access to arts education for all. As a World Councillor for the International Society for Education in the Arts (InSEA), she is shaping the future of arts education on a global scale.
Key Discussion Points:
– Inclusivity and Diversity in the Arts: Explore how arts education can embrace and celebrate diversity, ensuring that all students have access to the transformative power of the arts.
– Speculative Wonderings: Dr. Sarah Healy's pioneering work in speculative a/r/tography and affect theory will inspire educators to think beyond the traditional boundaries of art and explore new possibilities.
Our wonderful host from MGSE, Associate Professor, Kathryn Coleman, PhD is a Committee Member for Art Education Australia. She is Associate Professor in Visual Arts & Design Education at the Melbourne Graduate School of Education and University of Melbourne. Kate is interested in the intersection of art, digital spaces, practice, and culture and data. Her research into practice includes teacher practices, creative practices, practices of identity, knowledge as practice and digital practices. Kate is a neurodivergent, feminist, artist, researcher and teacher. Her praxis includes taking aspects of her theoretical and practical work as a/r/tographer to consider how artists, artist-teachers and artist-students use site to create place in digital and physical practice.
By attending this lecture, you will be immersed in a world of creativity, innovation, and social change. Sarah Healy will provide you with valuable tools and perspectives to transform your approach to arts education, making it more accessible, inclusive, and impactful for students of all backgrounds.
Don't miss this unique opportunity to be part of a transformative conversation in the world of arts education. Join us and embark on a journey to expand horizons, ignite creativity, and explore activism in your classroom.
—————————————————————————–
Tickets
Payment Terms
Please ensure payments are received prior to this event.
$45 – General Admission/Non- Member 
You are welcome to first join as an ArtEdVic Member to receive the discounted Member ticket price and enjoy the benefits of membership and being part of our community. Visit this link now to join ArtEdVic https://aev.vic.edu.au/join-us/member/
$25 – ArtEdVic Member
Please ensure your AEV Membership is current by logging in to your account online or please feel welcome to email us at hello@aev.vic.edu.au. If your membership is not valid, we will ask you to renew before the event.
$15 – Pre-Service Teachers 
Student ID's will need to be validated
—————————————————————————–
Venue
University of Melbourne
Kwong Lee Dow Building (Level 5)
UNESCO Arts Education Observatory
234 Queensberry Street
Carlton Victoria 3053